After the huge success of John Wick 4, questions are erupting in the mind of Fans; if there will be another movie in the john wick franchise? Will there be John Wick 5? And the bigger question Will Keanu Reeves be in John Wick 5?
Well, we have good news to share with the Fans of John Wick movies. For that, you have to go through the post till the end.
Will Keanu Reeves Be In John Wick 5?
On Behalf of Motion Picture Group, Joe Drake has confirmed that the fifth film of the john wick movies series is already on the high tables to scratch at ideas and already in the planning phase. After the huge box office success of the fourth film John Wick: Chapter 4, the company, motion picture group is thinking about making a potential John Wick 5. When Joe Drake says something like that, you can almost replace it with confirmation.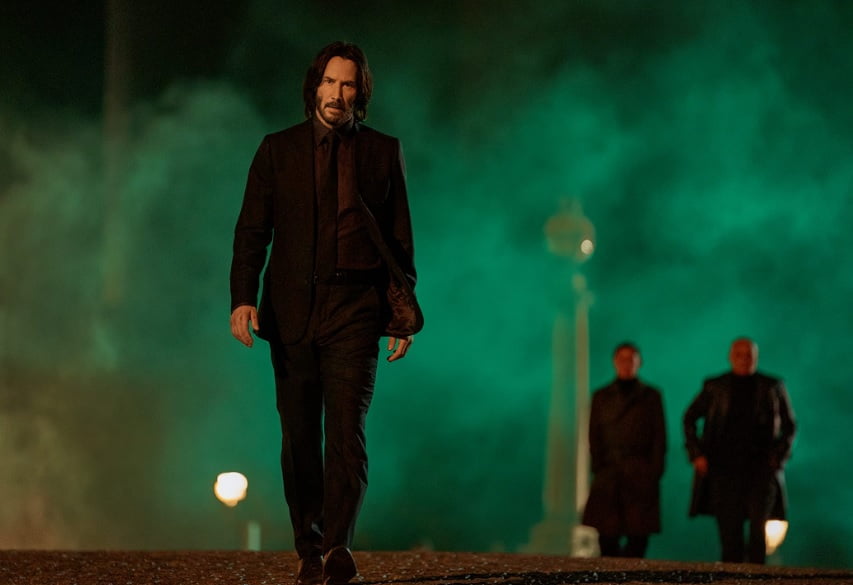 A quick note on John Wick Movies
For those who are alien to john wick, let's have a few words on john wick chapter (s).
Screenplay:
John Wick is a fictional character portrayed by great actor Keanu Reeves in the action thriller film series titled "John Wick." This impressive franchise is Created by screenwriter Derek Kolstad and directed by Chad Stahelski.  The film is about the story of a retired hitman named John Wick, who seeks vengeance for the death of his wife and the killing of his beloved dog by a Mob Son.
Background of John Wick:
Let's dig deep a little bit. John Wick is a former assassin known as "The Baba Yaga" or "The Boogeyman." He was the best in the business. He has exceptional combat skills and is second best to none and he is highly trained in various forms of weapons and hand-to-hand combat. He earned his retirement, (which is the rarest thing in his line of work) from his life of crime after falling in love and getting married. He lost her through a terminal illness.
John Wick 2014:
The first film in the series, "John Wick" (2014), revolves around Wick seeking revenge after a group of Russian gangsters break into his house, steal his car, and kill his dog—the last gift from his late wife. Though he has retired, his tragedy forced him to reignite his lethal killing skills and leads him on a path of revenge against those who cause him this grief.
The Continental:
John Wick movies are full of beautiful ideas, one such is the code. It introduces an underground world of assassins that follows its own code and rules. The Continental is a chain of hotels that serve as neutral territory for these hitmen & assassins. The Continental is like an incumbent centre where one can find resources, support, and a safe place to conduct business. The hotel is run by Winston (played by Ian McShane) and his staff.
Action:
The John Wick films are known for their intense and unique action sequences. Franchise has decided that they will use a minimum of CGIs, therefore fans are being mesmerized by real action scenes.
Commercial Success:
The first film in the series, "John Wick" (2014), was not only a big box office success but also considered of one the best creation by Cretics.
There are a total of 4 John Wick films so far and for all director Chad Stahelski is responsible for these massive hits and amazing fan following. John Wick (2014) has been expanded into a successful franchise, with sequels such as "John Wick: Chapter 2" (2017) and "John Wick: Chapter 3 – Parabellum" (2019),
Reeves and Stahelski are synonyms for John Wick now. There are working not only on 5th Movie but also on video games, Web series, and spinoffs. Development on three others including john wick 5 and television series is in the planning phase, ballerina is the first spinoff of the John Wick World. There is another spin-off TV series titled "The Continental" in development.
Following is the worldwide collection of John Wick Franchise-
John Wick (2014): Worldwide Box Office: Approximately $88 million
John Wick: Chapter 2 (2017): Worldwide Box Office: Approximately $171 million
John Wick: Chapter 3:  Parabellum (2019): Worldwide Box Office: Approximately $326 million
John Wick: Chapter 4: Just Past the $400 Million Mark at Global Box Office
Combined, the franchise has crossed the $1 Billion mark globally.
You Can read more about John Wick Here on the Offical Website of Lion Gate.
Keanu Reeves on John Wick 5
Now coming back to our question Will Keanu Reeves Be In the upcoming movie of John Wick 5? Well, Keanu Reeves has put a Condition for John Wick 5, that he is willing to do it only if it would be directed by Chad Stahelski. He only needs a tiny rest before baba yaga starts kicking ass again.
Chad Stahelski on John Wick 5
Here is the word of Chad Stahelski on John Wick 5-  "When you have something successful, yeah, of course, you want to keep doing it. But it's very easy to be repetitive. The trick is how you be repetitive with individuality. How do you put your authorship or your agency into something that's been done three times before?"
The filmmaker further added that he "wouldn't mind doing  John Wick 5" but also feels like he "feel like ended it" with Chapter 4. "The real question you ask yourself is not, 'Do I want it?' Yes, I wouldn't mind doing it. We just tried to knock it out of the park. We tried to put everything on the table, take nothing, and leave it all."
You Can Watch the Official Trailor Of John Wick 4 Here-
Conclusion
We Begin this post with the question of Will Keanu Reeves Be In John Wick 5? So let's mark the end of this post with the good news that this Chad Stahelski is going to direct the fifth sequel of John Wick, and Keanu Reeves will be back as Baby Yoga " John Wick" with the iconic phrase, "I'm thinking I'm back."
Subscribe to our YouTube channel for such interesting videos.