Don't you imagine many times that you should watch programs from different countries on one setup box? Well in this post we will try to solve this puzzle. StbEmu is the answer to your query.
Let's get to know where you can download StbEmu and How to use stb 1.2.7.3_ . What are the features of StbEmu? How many versions of StbEmu are available in the market? If StbEmu is free or paid? What are the permissions that StbEmu is needed once you install it on your device? In the last section before answering the FAQs related to StbEmu, we will also discover how customers are rating this app.
How to use STB 1.2.7.3_
As the name suggests StbEmu can be considered as an abbreviation of St-Top-Box +Emulator. It is an application that can emulate something linked to a set-top box. StbEmu can be used to emulate the IPTV broadcast (that is meant to be broadcasted on a set-top-box) on your computer, Laptop, or on your Mobile device.
StbEmu is a popular application that is made to mimic the functionality of Set Top Box for streaming IPTV (Internet Protocol Television) content on various personal devices such as mobile, smart tv and tab etc. IPTV is the next phase of entertainment where users are allowed to watch live on-demand content, and other media through the internet. This is like the content on the Go. This is available on the Google Play store, a link to this will be given in the post.
Before sharing with you how to download StbEmu, let's try to find out what the StbEmu app is all about. There are two types of STB emulators one is the free version and the second one is the paid version STB emulator which is called Pro APK.
Know Hidden Fasts About Rishi Sunak
It will be good for you to know about StbEmu, let's discuss the version for it.
The versions of StbEmu:
Currently, there are two versions of StbEmu available-
Free version. This is known as Free StbEmu
Here you get all the functionality of StbEmu, but there are advertisements to support the app functionality.
Paid version. This is known as StbEmu Pro
Here you get all the functionality but since it is paid version, this version is ads free.
As far as the cost of Pro StbEmu is considered, it is costing approximately 8$
How to use STBEmu:
Before anything, you must have an active subscription to IPTV (internet protocol TV ) from some third-party vendor, as StbEmu doesn't provide you IPTV subscription, it only lets you emulate the IPTV that was meant for the Set-top box, on your device.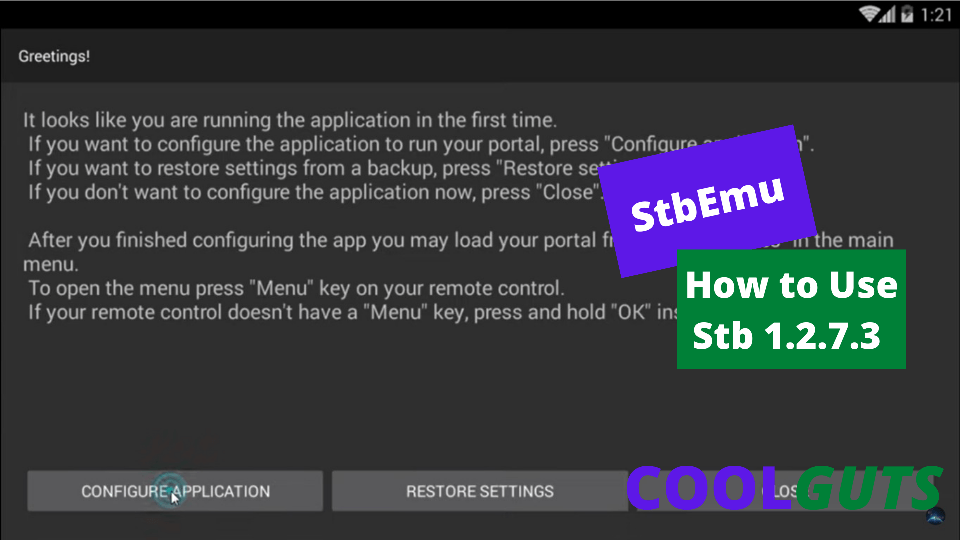 There are few free as well as paid IPTV subscriptions available. Following is the list of some of the IPTV
Tubi TV
Once You have IPTV Subscription with you, you can enter the details and make changes in the StbEmu setting.
Download the StbEmu Application
Download the StbEmu Application from the download link mentioned here in our post. After Downloading, it will be installed automatically.
How to change the settings of StbEmu
Once you have finished downloading the StbEmu from the download link mentioned in our post, you have to open the application.
Upon opening, the following window would be having these three options-
Configure application
Restore setting
Close
If you haven't worked with STB 1.2.7.3_ before and doing it for the first time, then you will select the first option which is to Configure the application. If you make some error while changing the setting of your StbEmu application, you can choose the 2nd option to restore the setting. Or you can close if you want to do things later on.
We are assuming that you have selected the configure application from the first window, as mentioned above. This will take you to the setting option of the StbEmu application. You can also reach this option by selecting three lines on the top left-hand side of the StbEmu application. You can also click three dots on the top right-hand side of the application interface; from there, you have to select settings and then profile. Once your profile is visible then you have to click on it. If you want to know How to use stb emulator, please concentrate on the following steps.
Once you reach there, you will have the following options available
Change Profile Data
Common Setting
Reload Portal
Keymaps
Save/Restore Settings
Let's explore these options one by one. One must know about each of these options in detail if you want to know how to use stb 1.2.7.3_
Change Profile Data
This is the most important aspect that one should learn about if you want to know anything about the StbEmu application.
Inside the profile menu of the StbEmu application, you can find 4 sub menu
Profile Name
You can change your profile name.
Portal Setting
This is the most important aspect. Here you have to enter the Portal address that your IPTV service provider will give you.
STB Configuration
Once you open STB Configuration setting there will be many options. You have to note down your MAC address (which is typically in the form of 00:1A:89:83:27:00 etc). Please note it down in some Word file or write it down correctly. You have to enter the same on the website of your IPTV service provider.
(So basically there are two actions that you would do, you have to enter the Portal address on your StbEmu application and you have to tell your MAC address to your IPTV service provider. This is like a handshake at both the end).
Media Player Setting
Keep it default. Don't need any major changes.
Advance Setting
Leave as it is. There is no major change required.
Once you enter the correct Portal address in your profile, you will be connected to the server of that IPTV provider and able to watch IPTV emulation on the device of your choice.
Features of StbEmu
There are some features and general settings of the StbEmu application that you will find handy while using it. The option to choose will be to select three small lines at the top left-hand side of the application.
App Language:
You can choose the language of your use stb 1.2.7.3_ application. The default language is English. You can leave it as it is if you want to see instructions in English.
Navigation Bar:
You can choose to show or hide the navigation bar while you are working on the StbEmu application. By default, this option is to show Navigation Bar.
Always show overlay buttons
Overlay buttons visibility option. By default, it is on. You can choose to hide it.
Screen Orientation
Screen Orientation option. You can have a portrait or landscape mode selection. By default, it is in landscape mode.
Password Protection
You can choose to secure your StbEmu 1.2.7.3_ application through the password.
Boot Option
How should the application behave when your device got started? You can choose to select auto start on device booting or may choose to start the application manually.
Volume Control of StbEmu
Here in this option, you can choose the volume setting.
Media Setting
In the Media setting option, you can create different media sessions when playback.
Keyboard Setting
In this option, you will have two sub-options, 1. Keyboard Type and 2. Software keyboard input method.
You can choose to define the software version of the keyboard if the native keyboard is not working. However leave it as it is, since it will work in most of the cases.
FAQ on How to use Stb 1.2.7.3_
Let's explore some questions of our readers-
How to use the STB emulator?
In the above post we have mentioned in detail about each and every aspect of StbEmu, request you to kindly read the above post, still if you have any doubts, please feel to write to us.
How to Use StbEmu for dstv?
You have to check if Dish tv is given IPTV service. If this is the case then you can follow the process mentioned in the post above.
How to use Stb Emu Pro?
StbEmu Pro is the paid version of StbEmu. The process for using is the same as mentioned above. StbEmu emulates the IPTV version that is intended to be displayed for the Set-top Box, over the device of your choice. There are two versions of it, one is free and the other is paid. The only difference is that the free version is supported by advertisements.
How to Download StbEmu 1.2.7.3. apk ?
You can click on the download link as mentioned in this post to download StbEmu 1.2.7.3. apk. The process for installation of StbEmu is mentioned in the post here. Please go through it in detail.
Download StbEmu ( stb 1.2.7.3_)
Rating of StbEmu By Customers
Customers have rated StbEmu version 1.2.7.3 as on a satisfactory level.
Conclusion
We hope that in this post we are able to be able to guide you through each and everything pertaining to the StbEmu application. Please keep on posting your queries, in the comment section; we will answer your queries as soon as we can. Please don't forget to bookmark us till then happy enjoying reading on How to use Stb 1.2.7.3_. You can always find more interesting posts on coolguts.com.
You can also subscribe to our YouTube channel by Visiting here.